I'm sorry I can't remember who told me about this event, but it was most likely my buddy Keith from Gotta Love Gravel. He knows all the best events. After hearing this was a race down most of Mississippi I signed up immediately. One of my brothers lives fairly close to the start, so I decided I'd run the race Saturday morning and then cruise the Natchez Trace back up to his house afterwards. Two birds. One stone.
The Catch(es)
I'm going to attempt the Delta Epic in one stretch. 293.3 miles. (My current longest sitting is 166ish? Spinistry's Dallas 2 Austin)
The event starts at twelve a.m. in the morning. I like my sleep and I get pretty tired after nine p.m. I'm not sure how my mind and body is going to handle this.
Flat, but reported headwinds. I hate headwinds, especially 300 miles of them.
GETTING THERE. WTF.
Weather
Everything is looking to be in a our favor. The weather near Arkabutla, MS is going to dip to a chilly 48 degrees with a NNE 6mph wind. Saturday the weather near Bentonia, MS is going to be a high of 83 degrees with the same wind pattern.
What does this mean for me? Well, we are going to have somewhat of a cross tail wind most of the ride, big smiles here. The downside is I will have to prepare for the cold. 48 degrees for a Texan may as well be snowing. I will have to pack warm stuff that will need to be removed and stored once the sun comes up. This is not really ideal, but it must be done. I can't ride 7 hours in the cold.
The Bike
The tried and true Carbonda 696. No major changes. I really want aero bars, but it's too late in the game for that.
The Pack List
This time I'm going LIGHT. Since I'm attempting this in one go, I'm not taking any tent, bivy, pillow, etc.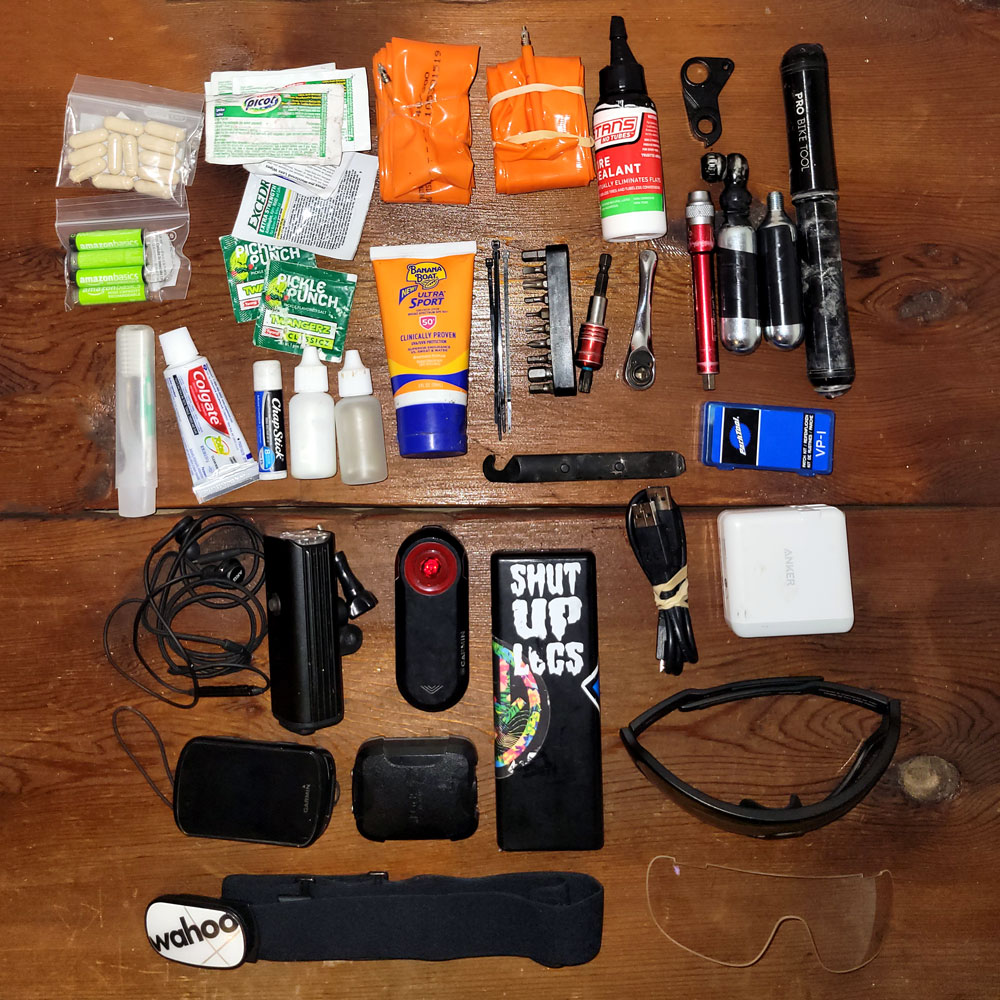 Storage
Frame Bag[b]
Top Tube Bag[b]
Repair & Maintenance
Tubolito x 2[3]
Tire Lever[4]
Patch Kit[4]
T40 bit[4]
cO2 x 2[4]
Bacon Strips
2oz Stan's Sealant[3]
Boot[4]
Chain Lube
Clothes & Personal
Jersey[p]
Socks[p]
Cycling Shoes[p]
Base Layer[p]
Helmet[p]
Gloves[p]
Tooth Brush, Toothpaste & Floss[2]
Nutrition & Hydration
Audio Books
[2] top tube bag
[3] frame bag
[4] seat bag
[p] on person
[b] attached to bike
THE PLAN.
On good days a twenty-five ounce water bottle will get me about forty miles or two hours. This is how I usually plan my rides. I will carry three twenty-five ounce water bottles. I was thinking of taking the GRAYL water filter, but it's only sixteen ounces and I'd rather have another twenty-five ounce bottle. The I did the math and the stops will be good enough not need the filter. Next time filter… next time.
As far as nutrition goes, if I'm not full out all gas I think I can manage between sixty to eighty grams of carbohydrates an hour.
The tricky part is managing hydration and nutrition from twelve am to seven am Saturday morning.
| Mile | Location | Best Case Arrival Time | Worse Case Arrival Time | Need | Notes | Temp |
| --- | --- | --- | --- | --- | --- | --- |
| 0 | Bayou Point | 12:00 AM | 12:00 AM | Food/Water | START with throw away bottle to make it to 70 and food for 70 miles. | 60 |
| 19.6 | | | | | Marathon Gas 24/7 | |
| 53 | Friars Point | 3:00 AM | 3:45 AM | Water | I don't think there is water here, I'll have to probably carry a throw away bottle to make it to Clarksdale. | |
| 71 | Clarksdale | 4:00 AM | 5:00 AM | Food/Water | (71.1) Double Quick 24/7 | 56 |
| 112.3 | Gunnison | | | | Bassie Service Station? (spigot on side) | |
| 123 | Rosedale | 7:00 AM | 9:00 AM | Food/Water | (122.9) Westside Convenience Store, Double Quick and Piggly Wiggle also in range. | 55 |
| – | Nothing | | | | | |
| 179 | Indianola | 10:00 AM | 1:00 PM | Food/Water | (179.9) Double Quick (hotel bail out) | 68 |
| 223 | | | | | Sharkey Spigot | |
| 229 | ??? | 12:45 AM | 4:30 PM | Food/Water | Rolling fork is 2.5 miles off course, but there is talks of a neutral water cache at entrance of DNF. Still need food. | |
| – | Literally Nothing | | | | | |
| 276 | Satartia | 3:30 PM | 8:00 PM | Food/Water | (276) Satartia Grocery CLOSES AT 7PM!! Spigot on canopy post | 79 |
| 293.3 | Bentonia | 4:30 PM | 9:00 PM | | FINISH | |
Getting There
Because this race is a one way, logistics to and from where quite interesting. Initially I was going to see if my brother could take me to the start line, but any which way I cut it, the shortest day for him would have been 5 hours on a weekday or which he would have to burn PTO. So I decided against that.
The best plan I had was to drive my truck to the finish line in Bentonia, MS and leave it there. Then ride my bike 27 miles down 49 to the Amtrak in Jackson, MS. Take a nice calm ride from Jackson to Memphis, TN (a mere 30ish miles from the start) and then ride my bike down… lucky for me, my good friend Keith of Gotta Love Gravel was coming through Memphis on Friday and save me a spot in his bicycle hauling machine.